I skipped the June edition of these retrospective posts, but in the spirit of not breaking a habit more than once, I'm back with July! I was hoping that COVID was pretty much "over", but with the delta variant and my work pushing back our return-to-office until mid-October… the pandemic is very much still with us. This whole situation has been predictably unpredictable.
Aside from a record-breaking heat wave in June, the summer has been quite pleasant. Seattle gets a couple months of near-perfect (70°F, moderate humidity) weather each year, which makes up for the grey/gloomy winters.
What I've Been Reading
Fermentation
Over the last couple months, I've had a renewed interest in fermentation projects. Last year, like many others, I tried to learn how to make sourdough bread – but eventually gave up after mixed results and a half-dozen failed loaves.
More recently, I've been making pickles and water kefir. I made a batch of really tasty dill watermellon rind pickles a few weeks ago. Never knew that watermellon rind is edible, but… it is, after sitting in brine for a few days: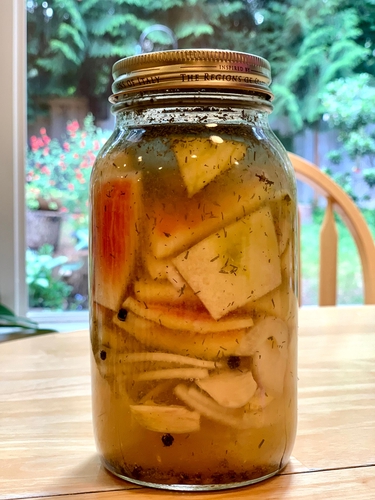 I've also been making water kefir continuously for over a month. It's similar to kambucha, but the fermentation SCOBY feeds off of sugar water instead of tea. If you've made kambucha before, the process is similar: you do an initial fermentation to culture the liquid, and then you do a secondary fermentation which adds flavor (e.g. fruits) and carbonation.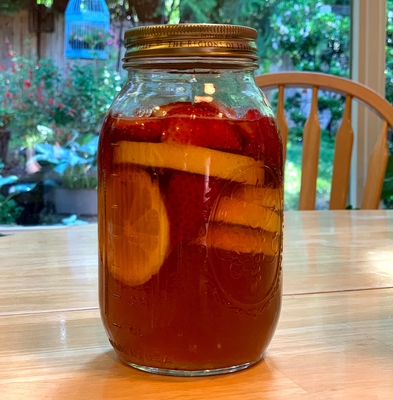 The neat thing about water kefir is that the process is cyclic, and you can keep it going essentially indefinitely. Once the primary ferment is done, you can immediately start another primary ferment in a separate jar while the secondary ferment is happening. It's also (in my experience) a more foolproof process than making kambucha.
All you need to start is some water kefir "grains" (which hold the bacteria/yeast), which can easily be bought online. Fun project.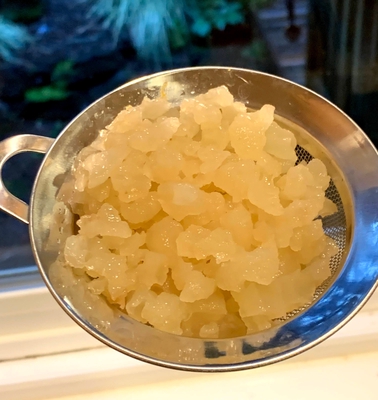 Assorted Links