Week 4 of isolation came and went. Things are continuing to settle into a routine, though this still feels far from "normal". The days of the week are starting to lose all meaning. I woke up on Friday and wouldn't have been able to tell you that it was the last workday before the weekend. (What are weekends now, anyway?)
Washington's "Stay Home" order got extended another month – into early May. This wasn't unexpected, but it means that this quarantine/distancing period is far from over.
Washingtonians: thank you for staying home. I'm proud of our efforts as a state.

But we have an obligation to ourselves and our loved ones to recognize the hard road ahead

So tonight I'm extending the "Stay Home, Stay Healthy" order for one month. 1/7

— Governor Jay Inslee (@GovInslee) April 3, 2020
My estimate last week that we'd be sheltered-in-place for 3-8 more weeks still sounds correct to me – though now technically, the range is more on the order of 4-8 weeks. It's become even clearer that once we stop staying at home, things won't go back to "normal". The consensus view I'm seeing is that society will be moderately impacted by this disease for at least 9-12 more months.
Will universities and schools be able to open in the Fall? When will workplaces reopen? Will the US be able to stay politically motivated to maintain social distancing, despite the economic impact? When will it be safe to travel internationally again? Who knows.
That whole idea of having a parade to celebrate when this is "all over"? Probably not a good idea.
Masks and Groceries
We went on our weekly grocery trip today, and sheepishly brought face masks and gloves to wear. Surprisingly (to me, at least), almost all employees at the store were wearing masks, and 80-90% of customers were wearing masks and/or gloves.
It's strange how quickly social norms can change. I thought we'd look crazy wearing rubber gloves and painters masks out in public, but we blended right in. If anything, the people without face masks stood out.
Our local Trader Joes is now limiting the number of customers that can be at the store at any one time. We went right as it opened, so the wait was minimal, but as we left there was a line at least a block long just to get into the store.
In positive news, the "shortages" seem to be mostly over. Our grocery store was well stocked with toilet paper, eggs, and most of the other things people were panic buying. The selection of dried beans was still pretty sparse, but that was the only category of item in short supply.
Media
I, like everyone else, got sucked into Tiger King this week. It's a wild ride. Watching the first 1-2 episodes gives you enough of a sense of the whole series. (Though, if you're able to watch the second episode and not immediately slip into the third episode, then you have more self control than me.) If you're in the mood to turn your brain off, it's worth a watch. My pithy summary is that it's "6 straight hours of 'Florida Man'".
"No, You Didn't Just Lose Half Of Your Retirement Savings" provided some much-needed optimism. It feels hard to be optimistic right now, as much of the human cost of this pandemic still lies in the future. I found this post useful because it balances "yes, things are bad right now and we should acknowledge that" with "things will be OK once we get through this".
The world will keep rallying and doing its best to slow down contagion. Caring people will keep helping each other. People will stay home and heal, hospitals will expand, nurses and doctors will do their best to save as many lives as possible, and the 80% of us in jobs that allow us to keep working, will keep doing our jobs.
Running / Exercise
It's been interesting reading about people rediscovering their running habits during the pandemic. If anything, I'd been running less since this started as all of my daily routines were disrupted.
My maintenance running schedule for the past year had been to run 5 kilometers 5-6 days a week. However, in early 2020 I experienced some overtraining, so I cut back to 2-3 runs per week. – I took more rest days and did non-cardio strength training on my "free" days. Now that I've been stuck inside for a month, I (obviously) haven't been going to the gym. I tried the whole "floor workouts" thing, but it doesn't really do it for me.
This week, I ramped up my running schedule again. Running is great for my mental health, but I have to be careful to balance the health benefits of running with not "overdoing it" on my legs/knees.
For what it's worth, I was planning on running the Seattle Rock 'n' Roll Half Marathon again this year in June. As of now, it hasn't been canceled. However, I question the wisdom of running in a corralled group of thousands (tens of thousands?) of other runners in June.
Never mind the difficulty for training for a half-marathon while sheltered-in-place: Most of the running trails where I live are still quite crowded even under the "Stay Home" order, so going on long runs feels like I'm contributing to that problem and not "doing my part".
As with everything else, planning for the future has become murky.
Cooking
Well, I had another sourdough starter failure this week. My first starter didn't ever really become active; I think the old, bleached all-purpose flour I used wasn't up to the task. For my second starter, I used a mixture of whole wheat and bread flour, both unbleached. The starter was quite active, but by the third day I noticed it developed some mold on the surface. I "scraped off" the mold per this guide, but the next day it was back again, so the whole thing had to be tossed.
For my third attempt, I'm going to be covering my starter loosely (my first two attempts were uncovered), and using a new, clean glass jar each day. Fingers crossed… Under normal circumstances I'd be discouraged, but I have a lot of time on my hands right now, so the failures are easier to frame as "learning opportunities" rather than wasted time.
Despite the issues I had with my sourdough starter, I still did manage to make bread this week. I made a whole-wheat loaf with commercial instant yeast. It didn't turn out super pretty like a sourdough loaf, but it works as decent sandwich bread.
I also made some gluten-free yeasted dinner rolls using this recipe, but they turned out rather doughy. For subsequent meals I resurrected them by pan-frying them in a bit of coconut oil, which improved the texture. Gluten-free baking is tricky, but applying additional fat can cover a variety of issues.
Assorted Links
This animation of an HIV virus infecting a cell was, by far, the most fascinating thing I saw this week. HIV (from what I understand) is similar to SARS-CoV-2 in that they're both enveloped viruses. What I particularly like about this animation was the detail of it; the creators do not shy away from displaying and naming individual proteins and enzymes. I wish there was more "smart, but accessible" microbiology content on the internet.
Animal Crossing Catch Guide is a neat single-serving website that acts as a checklist to help you catch all the seasonally available fish and bugs of Animal Crossing: New Horizons.
The Craziest Month in Stock Market History places the last 30 days of stock market trends in perspective.
Filing this as "insensitive, but 'we need to laugh in order to not cry'": Someone put the GameCube startup sound to an animated graph of unemployment claims.
Someone added the GameCube intro to my unemployment graph & it's significantly better now. pic.twitter.com/c35hS74sok

— Dorsa Amir (@DorsaAmir) April 3, 2020
I've been thinking about this Patrick McKenzie tweet for a couple weeks. He signed a prediction and posted its SHA512 hash. Subsequent tweets indicate that this is probably a prediction about the impact of COVID-19 on Japan and/or Tokyo. I find this to be an extremely interesting idea. What types of "unpopular predictions" would you feel uncomfortable posting today, but might be necessary in weeks/months to prove that current events could be predicted by people in the past?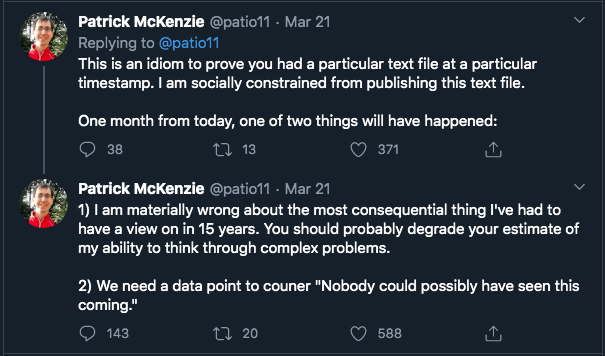 Stay safe out there…!